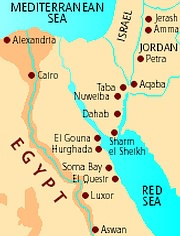 Red Sea Holidays are a must for bargain holidays the serious water-sport lovers with a fabulous coral reef for spectacular diving and snorkelling, and many of the beachside hotels have direct access to the reef. There is so much to do on Red Sea Holidays, from swimming with the dolphins to taking a camel ride with a real Bedouin tribe.
We specialise in Red Sea holidays. We can offer both Tour Operators' packages, especially for a last minute holidays as well as the tailor-made option, where we can source the cheapest flights, and then use our extensive experience and expertise to find the best value hotel. We consistently deliver the best of bargain holidays on a year-round basis.
When looking for your bargain holidays we can spare you the considerable time and effort of making price comparisons, as we have already done this, comparing hundreds of flights and hotels to arrive at those that offer great value last minute holidays. We can arrange resort transfers, airport parking in the U.K. at discounted rates; and the all-important Travel Insurance. All you have to do is pack your cases and enjoy your red sea holidays.
GENERAL INFO
Population: 68000000
Time Zone: GMT+2hours
Driving side: Right Hand Side
Languages: Arabic, and English in the main areas
Religion: Muslim and Christian minority
Emergency #: 122 – Police, 123 - Ambulance
SHARM EL SHEIKH ATTRACTIONS
Colored Canyon – On your bargain holidays a worthwhile day trip to the middle of the desert takes you to these spectacular rock formations. Rivers from thousands of years ago gorged their way through the rock leaving different colorful layers. A full day hike for the fairly fit.
Learn To Dive – There are many dive centers in Sharm, most Hotels run a dive center or many can be located in Naama Bay. They teach beginners in their own training pool. On a last minute holidays you have a choice of wreck diving, or why not try an underwater safari taking in some of the amazing coral diving in Egypt.
St Catherine's – Also on your Red Sea Holidays take a day trip from Sharm, the monastery sits on the peak of Mount Sinai, arguably the biblical place where God spoke to Moses. It's a climb for the fit (camels can be hired) worthwhile starting in the wee hours and reaching the summit for the sunrise.
HURGHADA ATTRACTIONS
Glass–bottom boats – All the Hotels will be able to arrange this great excursion where you can have a 2 hour underwater adventure without getting wet. Spy on the fascinating underwater activities from the comfort of the deck.
Red Sea Aquarium – Open 9am – 11pm daily, on your red sea holidays learn to recognize the many species located on the reefs, a super outing for the whole family.
Desert Safari – Many hotels on your last minute holidays will run an inland safari, why not experience the desert on these guided tours. They might even take you to a Bedouin village for a cup of sweet mint tea and flat bread for the real feel of red sea holidays

TABA HEIGHTS ATTRACTIONS
The Monastery of St Catherine - was built in the 6th century under the Roman Emperor justinian.This is one of the oldest christian monasteries in the world. Well preserved one will find the Christian works of art which includes the second largest library of illuminated manuscripts after the Vatican. A very small part of the monastery is open to the public, for a very short time in the morning. This trip is worth your while.
Mount Sinai (or Mountains of Moses) - This is a very sacred place for the Muslims, Jews and Christians. It overlooks the Monastery of St Catherine. Mount Sinai is 2285 metres high and it is very easy to clib to the top. If your daring enough go by camel caravans or up the Steps of Repentance which has 3000 steps carved into rock monks. There is a beautiful view at sunrise and sunset.
Pharaoh's Island and Salah El Din Citadel - This is a rocky island which is crowned by the ruins of the 12th century crusaders' fort. This island was built to protect the pilgrims on their journey from Jerusalem to St Catherine's Monastery, and to levy the taxes on the Arab merchants.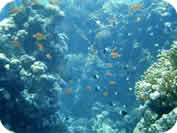 BEACHES
Hurghada – On the more popular Red Sea coast, you will find this red sea holidays town. Miles of stunning beaches, warm azure blue water, tons of coral and colourful aquatic life make this a sun worshippers paradise. Sharm El Naga about 30km to the south is to be recommended for its isolation and coral.
Sharm El Sheikh – Located at the tip of the Sinai land mass that separates the Gulf of Aqaba and Suez. Just a short way from this tourist Mecca is Ras Mohammed, which is amongst some of the most stunning coral reefs in the world. The colours of the fish and coral mesmerize one here. Make the most of your Red Sea Holidays and try a day trip from here inland to St Katherine's Monastery atop Mount Sinai.