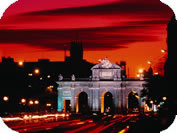 At a glance
This is Spain's headiest city, where the revelling lasts long into the night and life is seized with the teeth and both hands. Strangers quickly become friends, passion blooms in an instant, and visitors are swiftly addicted to the city's charms. Madrid may not have the Roman origins that get city historians hot and bothered, and it may be a comparative parvenu, selected from rural obscurity to become the capital only in the second half of the 16th century, but it oozes an ebullience that rarely fails to move.
When To Go
As in much of Spain, spring (March-May) and October are the best times to be in Madrid. The weather is generally agreeable, the city has a fresh feel to it and it isn't too overrun with tourists. If you love to party, visit during May for Madrid's biggest fiesta. You might like to book ahead though, it's a tough month for tracking down accommodation.
Places to See
With a triad of truly great art museums that includes the Museo del Prado, and buildings like the Palacio Real that span the centuries, plus lively plazas, mighty boulevards and neighbourhoods brimming with character, Madrid has plenty of sights to keep the eyes, ears and mind occupied.
Places to Eat
Being a city of Spanish immigrants, Madrid is a stronghold of Asturian, Andalucian, Basque, Navarran, Catalan, Valencian, Murcian and Galician cooking. It also offers international cuisines from French to Indian to North African, but still manages kick-ass seafood and fabulous tapas.
Night Time Venues
The cliché is true: Madrileños don't end the night until they've killed it. Make merry via a plethora of bars, great gay nightlife, all-night-long dance clubs, and a whirl of flamenco, jazz, salsa and rock venues. And there's plenty of old-fashioned entertainment for opera, theatre and dance buffs.
Places to Shop
From local craft shops and slick fashion temples to old-fashioned food stores and full-to-bursting department stores, Madrid impresses with the quality of goods on offer, reasonable prices and courteous service that rarely descends to obsequiousness. Prepare to stretch your credit card to the limit.
Tipping
In restaurants the law requires menu prices to include service charge, and tipping is a matter of personal choice - most people leave some small change if they're satisfied and 5% is usually plenty. It's common to leave small change at bar and café tables.