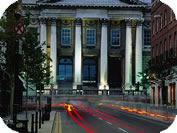 At a glance
In the wake of a remarkable economic boom, Dublin's landscape has changed immeasurably over the past decade. These days Dublin ranks among the top tourist destinations in Europe, and this vibrant city hums with a palpable sense that it is creating a new cultural heritage.
The city's burst of prosperity gave it a new confident sheen, but what remains special is the spirit of the people who ensure that, despite whirlwind changes, Dublin remains one of Europe's most down-to-earth, friendly and accessible cities.
When To Go
The months either side of summer and winter are the best times to visit Dublin. Prices increase in summer and many places are shut during winter. If you're planning a trip around the St. Patrick's Day festivities remember to reserve, book, and reserve again to escape the chaos of the celebrations.
Places to See
Though most people don't schedule too much gallery time into the pub crawl, Dublin museums offer a wealth of collectables. From the proverbial pot of Irish gold to the artistic riches of the Book of Kells to a host of quirky 'objets d'religious', it's a city of archives and artefacts.
Places to Eat
Ireland's largest city is also the nation's culinary capital. From the lowliest greasy-spoon diner serving the kind of deep-fried food that your arteries will resent, to the fanciest Michelin-starred restaurant where eating is a veritable culinary journey, Dublin is a glutton's delight.
Night Time Venues
While Dublin's nightlife has been jacked up in recent years and now includes a dizzying roundabout of trendy bars, cafes and clubs, the local pub still exerts a centrifugal pull on fun. The pub is a meeting point for friends and strangers alike, the place where Dubliners are at their most convivial.
Places to Shop
If it's made in Ireland, you can probably buy it in Dublin. Traditional buys include Irish knitwear, Celtic-style jewellery, crystal, fine china and linen. But there are also loads of small shops selling eccentric and offbeat wares and your souvenir trinket doesn't have to be staid.
Tipping
In restaurants, it is common to tip around 12% of the bill and up to 15% to 20% for especially good service, unless a service charge has been automatically added to the bill. If so, check to make sure that the staff actually receive it; if they don't, you can refuse to pay it. With other services, from hotel porters to hairdressers, a small gratuity is commonplace, although you're under no obligation to fork out. The same applies to taxi drivers; usually a euro or two is plenty.