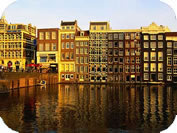 At a glance
Amsterdam is one of the world's best hangouts, a canny blend of old and new: radical squatter art installations hang off 17th-century eaves; BMWs give way to bicycles; and triple-strength monk-made beer is drunk in gleaming, minimalist cafes.
The city seems to thrive on its mix and, despite hordes of tourists, still manages to feel quintessentially Dutch. The old crooked houses, the cobbled streets, the tree-lined canals and the generous parks all contribute to the atmosphere.
When To Go
Amsterdam peaks with people around Easter and July-August but both of these times have their pros. April to May sees daffodils and tulips come to life through the cracks in the crowds. The beautiful summers are a great time to grab a bite and a drink alongside a canal. While winter can be a bit bleak it's rarely extremely cold, and sheltering in the cosy-hearthed pubs will give you a chance to meet 'real' Dutch. Also around this time accommodation is cheaper (except around New Year) and the best sights are all but deserted.
Places to See
Amsterdam has many fascinating neighbourhoods to explore, from red light sleaze to bohemian chic to stately grandeur. The landscape is riddled with graceful bridges and eccentric churches, the air laden with carillon chimes. Most attractions are within the canal belt, so sightseeing is a breeze.
Places to Eat
Dutch cuisine used to be pretty close to the bottom of the food chain - basic meat and potatoes didn't do much apart from fill the stomach. These days, however, an increasing number of places have gussied up those staid Dutch dishes, and places with an international flavour are opening their doors.
Night Time Venues
Even the most jaded culture vulture will be impressed by Amsterdam's selection of canalside pubs, hip-as-hell clubs, jazz venues and cutting-edge experimental theatre. Drop into a proeflokaal (brown cafe) for a couple of genevers (Dutch gins) or an ale or two.
Places to Shop
Set against a backdrop of scenic canals, gabled houses and cobblestone streets, clusters of hip boutiques, art galleries, and one-off speciality stores tout their trade. Renowned for its diamonds, flowers and Delftware, Amsterdam's real strengths are its directional fashion and homewares stores.
Tipping
Restaurant bills usually include a service charge and taxes, but a little extra is always welcome as a tip. It could be something as simple as rounding up to the next euro - or up to 10% (considered quite generous). For porters, figure €1.00 per bag. Figure also €1.00 for taxi drivers unless it's a long trip, in which case add more. The standard for toilet attendants is €0.50.