When booking your Cyprus holiday we can find cheap holidays by using our extensive experience and expertise to find the right accommodation for your needs, whether you want a hotel or self-catering.
We can give you the peace of mind of not having to worry about any part of your arrangements. When booking your Cyprus holiday we can spare you the considerable time and effort of making price comparisons, as we have already done this, comparing hundreds of flights and hotels to arrive at those that offer the best value for your cheap holidays or last minute holiday. For your Cyprus holiday we can arrange resort transfers, or book a private taxi if you prefer; we can arrange airport parking in the U.K. at discounted rates; and car hire in resort, again at best possible prices; and the all important Travel Insurance. All you have to do is pack your cases and enjoy your cyprus holiday.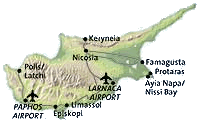 GENERAL INFO
Population: 721 900
Time Zone: GMT + 2
Driving side: Drivers drive on the left side of the road.
Languages: Greek, Turkish & English
Religion: Greek Orthodox 78%
Emergency #: Police: 112, Ambulance: 112 & Fire Brigade: 112
TOP DESTINATIONS
Agia Napa – One of Cypruss top tourist attractions for a last minute holiday. Thirty years ago this seaside resort town did not exist. Today its excellent beaches, hotels, restaurants and superb clubs are the best the country has to offer and great for cheap holidays.
Larnaka – A popular coastal town and Cyprus holiday favourite with a fort dating back to the 15th century as well as the underground biblical city of Kition.
Paphos – On the west coast of the island, the town of Paphos attracts many tourists looking for a cyprus holiday due to its favourable location near many other charming seaside towns. Vouni Panayia Winery is located east of the city and is a great place to sample the local wines to enjoy on your cheap holidays. Coral Bay to the north is the place to go if diving is your passion with many dive shops that offer courses and excursions.
GREAT OUTDOORS
Akamas National Park – Studded with sandy bays, deep gorges and home to over 500 species of plants, 168 types of birds plus a host of other animals and insects this cyprus holiday is a nature lovers paradise.
Troodos Mountains – Well-maintained trails wind up through the slopes of these ancient mountains past Byzantine churches and black pine trees. In winter Mt Olympus plays host to hundreds of skiers taking a last minute holiday.
BEACHES
Fig Tree Bay – Ideal for all kinds of sea sports, this is an exceptionally beautiful beach. It is extremely popular and has many shops with great bargains on your cheap holidays, restaurants and cafes that look on to it.
Agia Napa – Considered as having the top beaches in the Mediterranean with crystal clear water, golden sands and all the expected facilities and water sports. Some of the beaches include Macronissos – well sheltered; Ayia Thekla – small with a reachable small island; Nissi Bay – sheltered, good facilities; Sandy Bay – good for water sports; Limnara – well protected with water sports; Main Beach – very popular for a Cyprus holiday with good facilities.
West Coast – Excellent, wide sandy beaches overlooked by luxury hotels and restaurants surround Coral Bay. If your perfect cyprus holiday is a quieter beach experience you can make your way to Cape Lara, which is the nesting site for Green and Loggerhead turtles.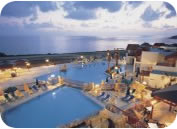 NATIONAL FESTIVALS & HOLIDAYS
Limassol Carnival – An Annual event that delights adults and children alike. This event brings the entire town together with massive local participation in the parades and festivities.
New Year's Day – Jan 1
Epiphany – Jan 6
Clean Monday (start of Lent) – Feb 23
Greek Independence Day – March 25
EOKA – April 1
Orthodox Good Friday – March/April
Orthodox Easter Monday – March/April
Orthodox Easter Tuesday – March/April
May Day – May 1
Assumption of the Blessed Virgin Mary – Aug 15
Independence – October 1
Ochi – October 28
Christmas Day – Dec 25
2nd Day of Christmas – Dec 26