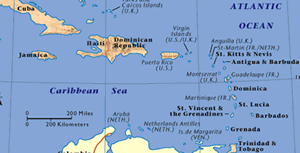 As bargain holiday specialists you may want to visit one of the less frequented, exclusive destinations, like the Grenadine Islands, where the traditional package suppliers do not operate. This is where we can help.
Where we are invaluable is in our knowledge of where to find good last minute caribbean holidays deals for your flights and the best suppliers for your accommodation. In fact as bargain holiday specialist the most important thing that we will offer you is peace of mind. Firstly, when booking your last minute caribbean holidays we can spare you the considerable time and effort of making price comparisons. We have already made these comparisons on your behalf, comparing hundreds of flights and hotels to arrive at those that offer top value bargain holidays. Also, you do not have to worry about all of the other component parts of your last minute caribbean holidays, whether necessary or optional. We can arrange resort transfers, or book a private taxi if you prefer; we can arrange airport parking in the U.K. at discounted rates; and we can arrange car hire in resort, again at a great bargain holiday specialists price. We can also arrange your Travel Insurance, very necessary for Caribbean holidays.
And don't forget, as bargain holiday specialists in the Caribbean is only good value if the hotel is up to standard. We use a combination of our extensive product knowledge as well as our customers' feedback to ensure that every type of accommodation that we book for you has been tried and tested wherever possible. This is particularly important if you have any special needs, or if you are arranging a holiday to celebrate a special occasion. Many of our customers are looking for an all-inclusive holiday, where the standard of food and service becomes all-important, especially when travelling with children. If you prefer the luxury of renting your own villa, we are able to find just the right accommodation at an affordable bargain holiday price.
If you thought last minute Caribbean holidays were all about sun, sea and sand, think again. Although you'll be hard pushed to beat this mesmerising destination for its pristine beaches, clear sparkling shores and glorious weather conditions, not to mention its sheer snorkel-ability and excellent scuba-diving opportunities around some of the most beautiful reefs in the world, Caribbean holidays offer a lot more than suntans and swimming.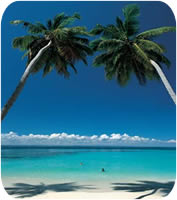 Why not explore Jamaica's old 17th-century British colonial forts, or soak up the atmosphere at a sizzling street parade in Cuba, or perhaps during your bargain holiday take yourself off on a thrilling white water rafting excursion, high in the mountain rapids of the Dominican Republic. Or, for a chance to step back in time and savour some of the most famous and complete Mayan sites, visit the lost city at Chichen Itza to experience these spectacular ruins.
But if all that sounds a bit too much like hard work, you could always live up to the expectation of Caribbean holidays, and while away your days sinking your toes into the deep, velvety sands of Barbados, snorkelling around Mexico's rainbow-coloured reefs, or gliding down the celebrated Martha Brae on a bamboo river raft in laid-back Jamaica.