we can spare you the considerable time and effort of making price comparisons for your Canary Islands Holidays, as we have already done this to find the best holiday deal, comparing hundreds of flights and hotels to arrive at those that offer the best value and a great holiday deal.
We can give you the peace of mind of not having to worry about any part of your arrangements on your canary islands holidays. For your canary islands holidays as late deals specialist we can arrange resort transfers, or book a private taxi if you prefer; we can arrange airport parking in the U.K. at discounted rates; and we can arrange car hire in resort, and Travel Insurance, again at the best possible price for a great holiday deal.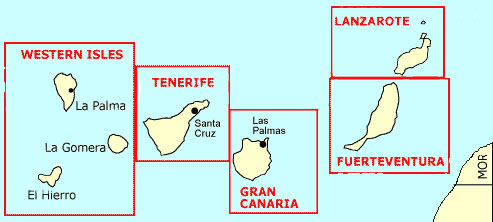 CANARY ISLANDS ATTRACTIONS
Las Palmas de Gran Canaria – this is the largest town of the Canaries, and has the big city throb to it and great for a canary islands holidays late holiday deal. It is expanding to such a degree that it is enveloping the little island of La Isleta to its north. Las Palmas stretches along the coast for about three kilometres to Santa Catalina, and has the three-kilometre long beach, the Playa de las Canteras, on the western side of the La Isleta land bridge. This is where the hotels, bars, shops, and all things touristy are located.
Isla de Lanzarote – UNESCO has declared this fascinating, dry and arid island a Biosphere Reserve. It has a surreal volcanic landscape, with Cueva de los Verdes, a spectacular kilometre long chasm that is part of a lava tube, formed by volcanic activity 5000 years ago. In the middle of another lava tube, Jameos del Agua, is a gorgeous azure lake. A restaurant and bars have been built on its shore, as well as a concert hall seating 500.
Playa del Ingles & Maspalomas – this is where the European sun-seekers come to play on their canary islands holidays, and if the aroma of suntan oils and lotions, and the sight of so many gorgeous near nude bodies get all too much for you, there are always the canary islands holidays theme parks to calm you down. Palmitos Park is subtropical paradise of flora and fauna with about 230 species of birdlife enjoying the good life within its bounds
CANARY ISLANDS RESTAURANTS
Cueva De La Tea - although obviously catering to the tourist trade, this place has great atmosphere, and the owners put all they've got into making your meal and your visit one to remember. The specialty of the house is rabbit, which makes an excellent meal. (Unless of-course you are a bunny-hugger, like me.)
El Diablo – Montanas Del Fuego, Lanzarote, this restaurant, which it is situated on a volcano, must have the lowest fuel bill on the island, because the grill is built over the belly of the beast, and food is cooked by Mother Nature herself.
El Novillo Precox – Las Palmas, Gran Canaria, if your hunger knows no bounds, and you dare all, then take on the challenge of finishing a meal of South American style barbecued meat at this restaurant where their belief in value for money is as great as their portions.
El Dornajo – Playa De Las Americas, Tenerife, generous helpings of good food make this restaurant an excellent eatery for the hungry, the hard up, as well as the happy family
CANARY ISLANDS BARS & CLUBS
Bodegon Tamanca – San Nicolas, La Palma, if on your canary islands holidays, you are in the mood to meet the natives on their own ground, then drop in on this bar where the ambience is warm and rustic, and the locals meet for their nightly booze-up.
El Bote – Los Cristanos, Tenerife, Located just behind the harbour promenade, this tiny bar decked out like a wannabe boat, serves great drinks, and if you are peckish, also offers food. The Tapas are known by the locals as the best in the area.
Chic/Cream – Playa Des Ingles, Gran Canaria, if you are between 18 and 30 in years, or heart, this is where the music bounces, the vibe is electrifying, and the volume mind-and-everything-else-blowing.
CANARY ISLANDS BEACHES
Maspaloma – As late deals specialist we know Gran Canaria, of all the gorgeous beaches in the islands, this must surely be one of the most beautiful, with wide, never-ending stretches of fine white sands, beside a brilliant blue sea.
Playa las Americas – La Troya, with sun beds and shades, showers, shops, and restaurants, all within easy reach, this grey sand beach offers just about everything for every need and a great holiday deal. It has shallow waters where the kids can splash about, coves for a secret rendezvous or two, and the occasional rollers just for fun.
Costa de Banaderos – Gran Canaria, this is a beautiful part of the coast with wonderful scenery and little bays. Perfect for romantics on Canary islands holidays.